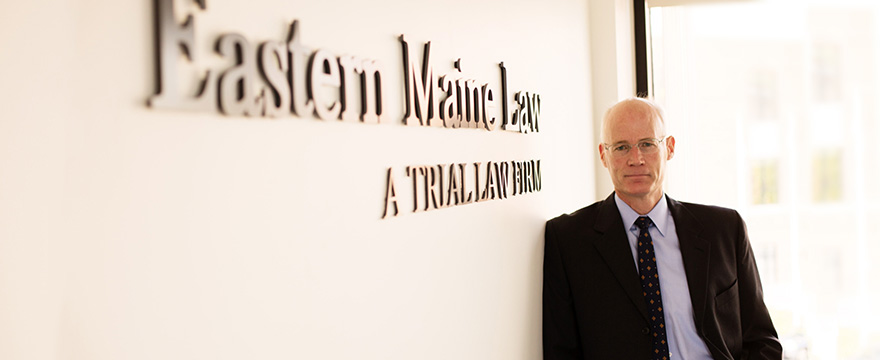 About Eastern Maine Law and John Gause
John Gause formed Eastern Maine Law to handle discrimination, civil rights, and personal injury cases on behalf of individuals. John has been a lawyer for twenty-four years. For eight, he was the Commission Counsel at the Maine Human Rights Commission, the state agency that enforces Maine's anti-discrimination law. In that role, he represented the Commission in court in discrimination cases, drafted laws and regulations, and was responsible for all legal activity of the Commission. Previously, he had been a partner at a leading statewide trial law firm where he successfully tried many employment discrimination, personal injury, and civil rights cases to juries. He also worked as a staff attorney and team leader for the nonprofit Disability Rights Center in Augusta.
John grew up in Winterport and graduated from Hampden Academy, where he met his wife. They have two sons.
Bar Admissions:
Maine State Courts, 1995
United States District Court for the District of Maine, 1995
United States Court of Appeals for the First Circuit, 1999
United States Supreme Court, 2002
Degrees:
University of Maine School of Law, J.D., cum laude, 1995,
Maine Law Review Research Editor,
Legal Writing Instructor
Colby College, Waterville, Maine, B.A., cum laude, 1991,
English Literature, with honors
Professional Memberships:
Maine Board of Bar Examiners, October 2019 to present
Grievance Commission, Maine Board of Overseers of the Bar, 2012 to present
Maine State Bar Association, Co-chair Labor & Employment Law Section, April 2018 to present
John Waldo Ballou Inn of Court (former President)
Penobscot County Bar Association, Board of Directors, April 2014 to present
Maine Trial Lawyers Association (former Board of Governors member)
Maine Employment Lawyers Association
Recognition:
The Best Lawyers in America, Listed for Employment Law – Individuals, 2020
2019 New England Super Lawyers list
Public Service:
Eastern Maine Medical Center Ethics Advisory Committee (former member)
United Way of Eastern Maine Basic Needs and Self Sufficiency Council (former member)
Selected Seminar Presentations:
"Acting Professionally at the Maine Human Rights Commission," panelist, Maine State Bar Association 18th Annual Employment Law Update, Freeport, ME, April 4, 2019
"Employment Law Developments," Maine State Bar Association 2018 Legal Year In Review, Augusta, ME, November 15, 2018
"Another Year, Another Landscape," Maine State Bar Association 17th Annual Employment Update, Freeport, ME, April 5, 2018
"A Lot to Keep Track Of," Maine State Bar Association 16th Annual Employment Law Update, Freeport, ME, April 3, 2017
"Fair Housing Questions and Answers," Maine State Bar Association Landlord/Tenant Law, Augusta, ME, September 23, 2016
"Keeping Up," Maine State Bar Association 15th Annual Employment Law Update, Freeport, ME, April 14, 2016
"Handling Medical and Leave Issues," Essentials of Employment Law, Hilton Garden Inn, Bangor, ME, January 16, 2016
"Practicing Before the Maine Human Rights Commission: How to Handle a Case Effectively From Start to Finish," John Waldo Ballou Inn of Court, December 1, 2015
"Attorney Conduct at Depositions: The 'Rules' and How to Deal with Attorneys Who Break Them," Maine Trial Lawyers Association Sugarloaf CLE, February 27, 2015
"What Comp Professionals Need to Know about Medical Leaves," 2014 Maine Comp Summit, Rockport, ME, August 24, 2014
"100 Ways to Personally Injure Your Employment Cases," Maine Trial Lawyers Association 2014 Annual Meeting and Spring Seminar, Freeport, ME, March 21, 2014
"Retaliation," Maine State Bar Association 13th Annual Employment Law Update, Freeport, ME, March 6, 2014
"TMI: What candidates tell you can hurt you!," Maine HR Convention, May 10, 2013
"What's New at the Maine Human Rights Commission: Top Ten Practice Pointers," Maine State Bar Association 11th Annual Employment Law Update, Freeport, ME, December 1, 2011
"Fair Housing Enforcement – VT, NH & ME," Tri-State Housing Manager Associations Conference, Bretton Woods, NH, October 18, 2011
"Disability and Reasonable Accommodation Issues," "Sexual Orientation Issues," Maine Human Rights Commission & Equal Employment Opportunity Commission Compliance Seminar, Portland, ME, April 16, 2008
"The New Definition of Disability – Its meaning and Implications," Labor Employment Relation Association, Portland, ME, January 28, 2008
"Proving Discrimination 'Because of Disability,'" National Association of Protection and Advocacy Systems Annual Conference, Washington, D.C., June 10, 2004
"Trial Motions," National Employment Lawyers Association New England Regional Conference, Boston, MA, April 4-5, 2003
"2003 Employment Discrimination Cases," Maine State Bar Association Legal Year in Review Seminar, Augusta, ME November 20, 2003
"Employment Law Cases," Maine State Bar Association Legal Year in Review Seminar, Augusta, ME, November 21, 2002
"Practice Tips Before the Maine Human Rights Commission," Maine Human Rights Commission Employment Practices and Issues Seminar, May 15, 2002
"Medical Leaves of Absence," Maine State Bar Association Employment Law Update Seminar, Portland, ME, March 27, 2002
"General Theories of Recovery in Employment Discrimination Cases," Maine Trial Lawyers Association Employment Law and Litigation Seminar, Portland, ME, April 7, 2000
"Disability Insurance and the ADA," Maine Civil Liberties Union & Disability Rights Center Seminar on the Legal Rights of Persons with Disabilities, Portland, ME, March 26, 1999
Publications:
Maine LAWYERS REVIEW, various articles, "Employment Law"
"The ADA in Practice: Navigating the Minefield," 13 Maine Bar Journal 30, 1998